Lifestyle
Bega Valley Shire's robust economy, substantial infrastructure, beautiful natural environment and pleasant local climate enable the Shire to support an enviable lifestyle.
Bega Valley offers a tremendous variety of recreation and other opportunities which cater for young families, professionals, retirees, investors and tourists.
It is this varied smorgasbord of activities and attractions which serves as one of the prime motivators for people moving to Bega Valley.
The Valley is strategically located between the snowy mountains and the magnificent Sapphire Coast. The exposure to the mountains and the ocean is a rare and special combination.
The region experiences mild, pleasant weather conditions. December reaches an average maximum of 27.0ºC. In July, the winter temperature falls to an average minimum of 2.4ºC with a plenty of sunshine during the day.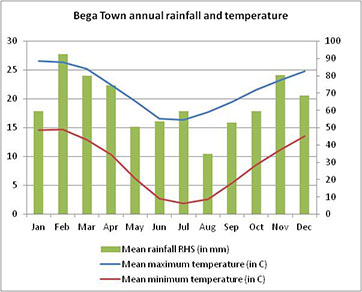 For more information
For further details on exploring the exciting possibilities in the Bega Valley, please contact us on (02) 6499 2222 ext 379 or email us at council@begavalley.nsw.gov.au
Alternatively, you may contact us via post at this address:
Economic Development
Bega Valley Shire Council
PO Box 492
Bega 2550 NSW
---
Rate This Page
---
Share This Page